How to find comparable private and public companies with PitchBook
July 27, 2020
PitchBook allows you to quickly create a list of comparable private and public companies based on the attributes that are most relevant to you or your client—including industry, location, pre- and post-money valuations, total capital raised, revenue figures and more.
This could include identifying all the mobility tech companies in California with Series B funding, for example, or listing all the PE-backed healthtech companies in Europe that have recently been acquired.
Here's how it works.
Finding comparable private and public companies
| | |
| --- | --- |
| 1 | Conduct a companies & deals search |
This search option will set up the following advanced search fields for you to select from.
| | |
| --- | --- |
| 2 | Filter by industries, verticals & keywords |
Select an industry and/or vertical to focus in on a sector and then add keywords to target specific products, services or themes.
Check "Search HQ Only" to target the main office and eliminate satellite branches. By selecting "Any office location," you can see the branches of a company that's headquartered in another region.
| | |
| --- | --- |
| 4 | Refine your list further |
You can also filter your search results by backing, business, ownership status and more.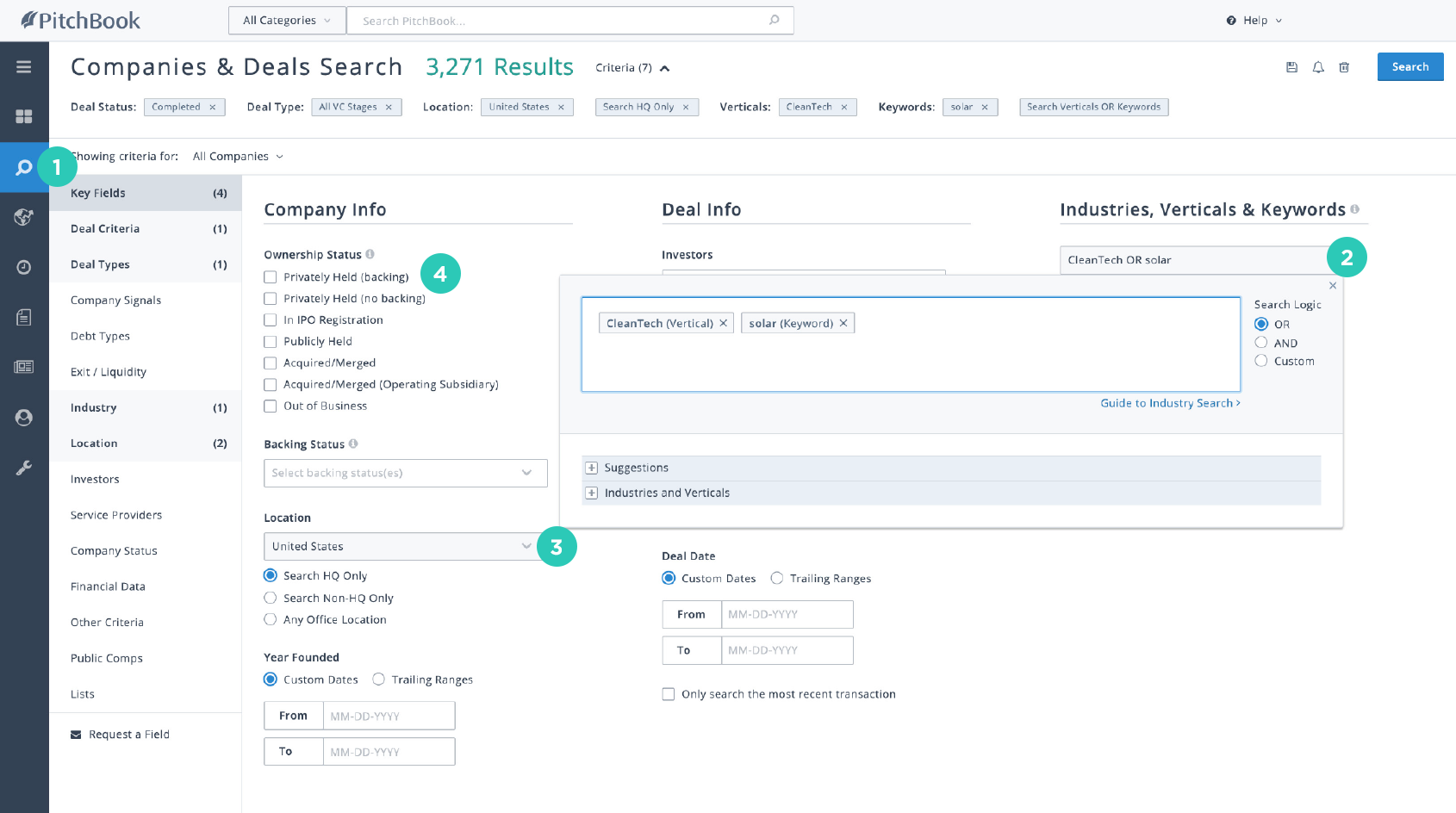 Using "and/or" search logic within PitchBook
After choosing your search terms, it's important to select "and/or" search logic to broaden or narrow your results.

"OR" search logic mode—combines all your search terms with "or," meaning your search will retrieve results that contain at least one of the search terms. This will yield the broadest set of results.

"AND" search logic mode—combines all your search terms with "and," meaning your search will retrieve results that contain all the search terms you've entered. This will yield the narrowest set of results.
| | |
| --- | --- |
| 5 | Run the search to see an overview of your search results |
The overview screen includes quick stats on the number of companies, deals and investors active in the space as well as the largest deal amount, total capital invested and the median post-money valuation during the time period you've selected.
| | |
| --- | --- |
| 6 | Quickly visualize the aggregate results of your search |
Scroll down the page to view other helpful overview charts based on your results, including up-to-date market maps, capital breakdowns, company count by geography, exits by type over time and more.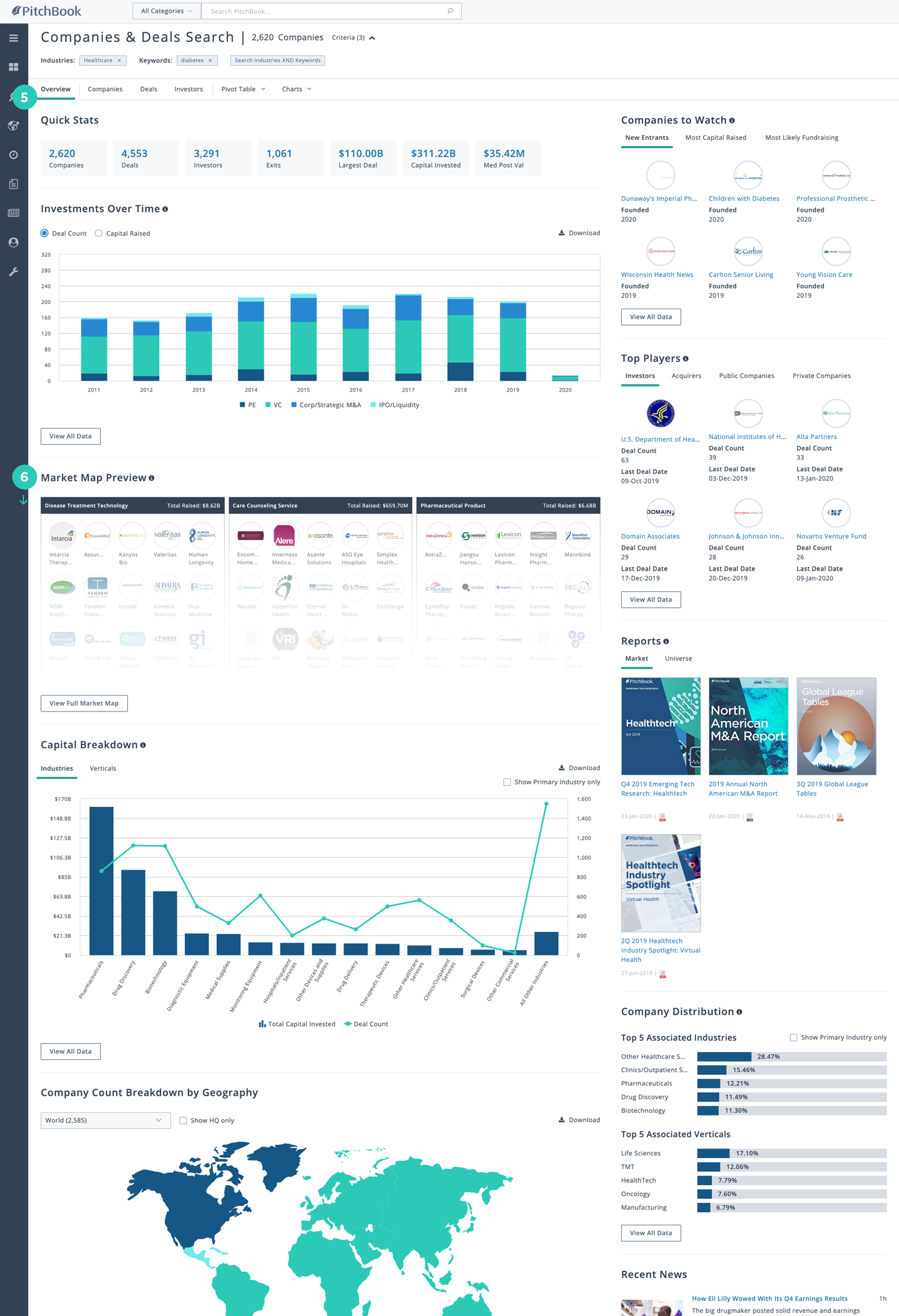 Comps charting and analytics
Within the "Pivot Table" tool, you can add and remove fields to build a customized view of the aggregated data from your search results.
With the "Charts" function, you can also edit the chart settings to view the data in different ways, such as a bar graph, pie chart, stacked bars or histograms.
You can also use the drop-down menus at the top of the screen to break down that information by a specific data point—or even export your results to Excel with a single click.
Have existing data you need converted to incorporate information from PitchBook? Just ask your customer success manager, and they'll happily do it for you
| | |
| --- | --- |
| 7 | View specific company details |
Select the "Companies" tab to quickly reference details on each individual company.
| | |
| --- | --- |
| 8 | Instantly get the specific data you want |
Add columns by selecting the "Edit Columns" tab to view the specific data points that matter most to you, whether that's last known valuation, primary industry or verticals, last financing date, type and size, or even active investors.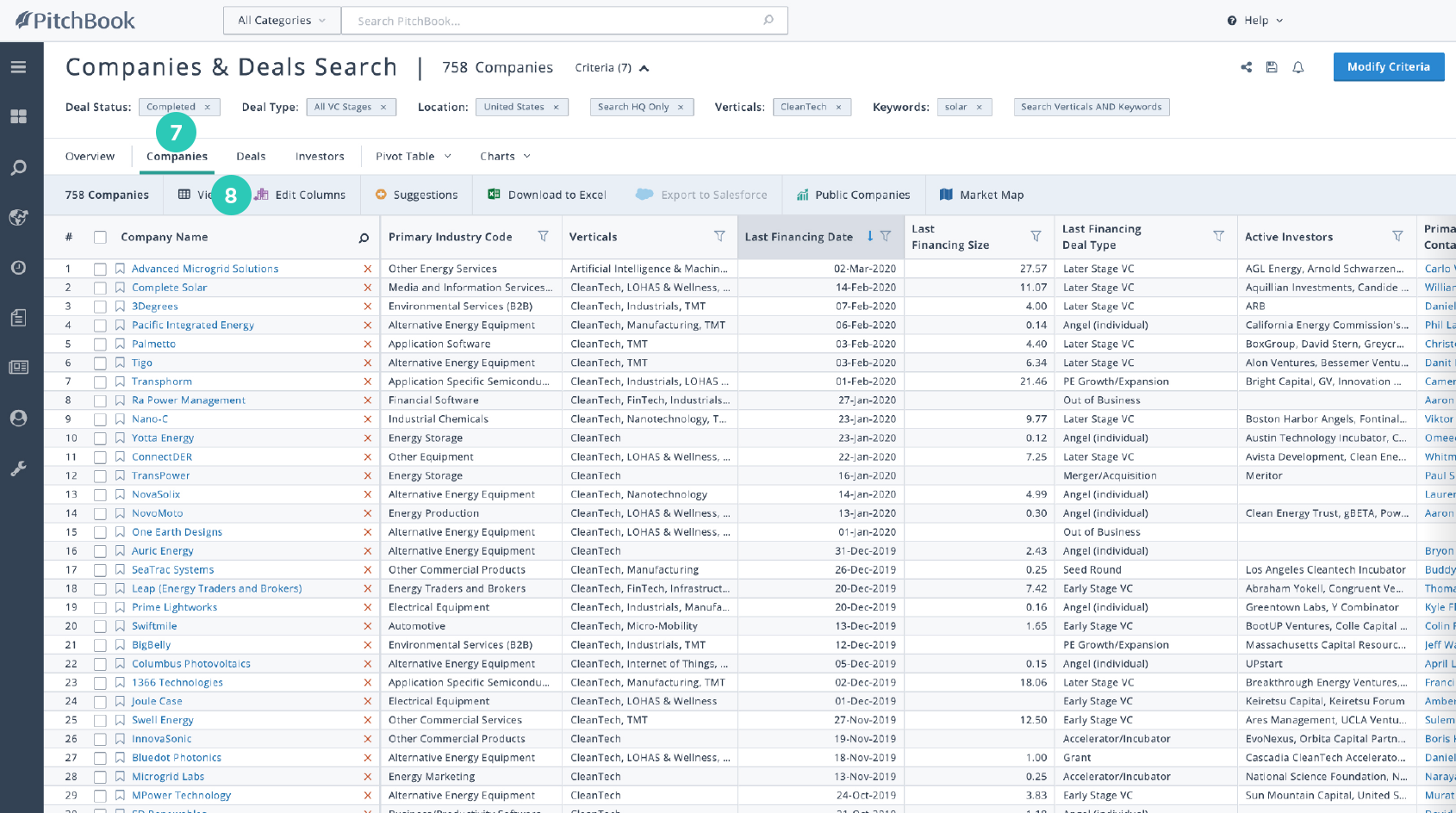 Can't find what you're looking for?

If you're having trouble capturing an accurate space, you can use the live chat feature available in the "Help" drop down to talk to a real person. You can always reach out to your customer success manager directly, too.
Want to learn more about how your firm can close the right deals faster with PitchBook? Download our Deal Execution Guide, which provides step-by-step instructions on how you can use PitchBook's detailed financial data to quickly build more accurate comps, streamline your valuation workflow and connect with the right buyers and investors.