IPO alternatives explained: SPACs and direct listings vs IPOs
March 15, 2022
Despite VC-backed IPOs regaining strength after hitting a low in 2016, it's still a relatively complex, lengthy and expensive process for companies. Unicorns like
Blue Apron
struggled upon entering the public market—and it's still trading far below the initial share price.
Faced with the
challenges of an IPO
, some companies and their investors are exploring alternatives to IPOs. In this blog, we'll talk about two of these alternatives: special purpose acquisition companies (SPACs) and direct listings.
What is a SPAC (special purpose acquisition company)?
A special purpose acquisition company (SPAC) is a publicly-traded buyout company that raises capital through an IPO in order to purchase or gain a controlling stake in a company. SPACs are also known as blank check companies because the target company is unknown at the time of the IPO. After the SPAC goes public, it typically has around two years to acquire one or more companies. When a company gets acquired by a SPAC, it goes public without paying for an IPO. All the fees and underwriting costs are covered before the target company ever gets involved. These opposite approaches to how long each company is on the market are the key difference between SPAC and IPO price valuation. Because SPACs can't be traded as much or to as many people as IPO shares, their price can be determined much sooner, but also miss out on some of the growth potential of an IPO.
Large private equity firms like
TPG
and
The Carlyle Group
have acted as sponsors in the SPAC market. Household brands like
Hostess
or newer companies like
DraftKings
have gone public by merging with SPACs.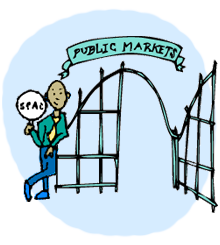 SPAC vs IPO
While this blind buying process could seem like a downfall, it can actually help stabilize a company when it makes its public debut. Proponents of the strategy have said that traditional IPO investors have a "short-term mindset" that can result in initial mispricing and other long-term consequences.
Despite the low-cost advantage, SPACs can be risky because investors have the right to withdraw their investments if they're unsatisfied with the target company. Even though the management team has incentive to identify the best acquisition (they do retain a 20 percent finder's fee after all), they still bear the risk of losing investors. If too many shareholders retract their capital, the SPAC may pull out of the deal.
In 2020, SPACs started to dominate the IPO scene, raising more money than other traditional IPOs—and the frenzy doesn't seem to be slowing down. When the coronavirus pandemic rattled many IPO plans, SPACs kept going public. One reason is that a SPAC's value is tied to how much it raised from investors, so it's less susceptible to the ups and downs of the market. Investors also believe that a recession could lead to more buying opportunities for SPACs.
What is a direct listing?
In a direct listing (also known as a direct public offering), a private company will go public by selling shares to investors on the stock exchanges
without an IPO
. Previously, companies going public via direct public offering would list existing shares rather than issue new ones, but the SEC changed the rule to allow companies to raise new capital in December 2020. Two notable examples of companies that have gone public via direct listing are
Spotify
and
Slack
.
Squarespace
also recently filed to go public via direct listing on the New York Stock Exchange.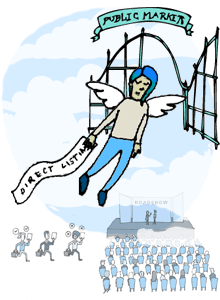 Direct listing vs IPO
Direct listings eliminate the need for a roadshow or underwriter, which saves the company time and money (an underwriter normally receives five to eight percent of the capital raised during an IPO). In preparation for its
recent direct listing
, Spotify hired several advisors for a flat fee—which also kept costs down.
Additionally, direct listings give shareholders the opportunity to sell their stake in the company as soon as it goes public, without experiencing the holding period they normally would with an IPO. But, there are risks associated with removing the safety net underwriters and lock-up periods provide.
To help mitigate some of the risks, companies like Spotify have turned to
secondary transactions
. Secondaries give shareholders the chance to sell equity before a direct listing and provide a level of price discovery, which may reduce early market volatility.
SPAC vs traditional IPO vs direct listing
SPAC
Is a publicly traded buyout company

Raises capital via IPO

Looks to buy a private company that fits investment strategy

Buys private company, which then goes public without paying for IPO



Traditional IPO
Process by which a private company goes public

Offers new shares to the public

Raises new capital from public investors

Requires a roadshow and underwriters, which can be costly



Direct listing or DPO
Process by which a private company goes public

Sells shares directly to the public without intermediaries

Eliminates need for roadshow, investment banks or underwriters

No lockup or holding periods for investors
Read more about SPACs and direct listings
To understand these trends in greater detail, be sure to check out these additional SPAC research pieces from our analysts. They answer questions like 'Does valuation matter when it comes to choosing a path to go public?' and 'How have SPACs taken over the mobility industry?'
Read:
PitchBook Analyst Note: The 2020 SPAC frenzy
Read:
PitchBook Analyst Note: The EV/Mobility SPAC Handbook
Read:
PitchBook Analyst Note: Consumer Unicorns Make Moves for 2021 Direct Listings

It's now easier than ever to get SPAC data in PitchBook.
Explore our database by requesting a free trial